One of the joys of running OxGadgets is the fact that we get the chance to try out some really well designed and unique products. The Kensington Keyfolio Executive definitely is one of those gadgets that impresses us on a lot of fronts. This nifty little combination of gadgets acts as a case for your iPad Air (or other iPads and tablets), acts as a stand, includes a UK layout Bluetooth Keyboard (which I am currently typing this on), and to top it all, it comes in a beautiful executive style zipper folio to make sure all your items are well protected.
Look and feel
When zipped up, this looks exactly like any other business man's zipper folio. Open it up, and you see a little section to put in your business cards and other important cards. Also visible is your tablet (assuming you have already attached it), and under it you'll find a stylus (assuming you have attached that too) and Kensington's own Bluetooth Keyboard. The Keyboard is actually attached via magnets, so can be taken off if needed, and snaps back in if required. You will also notice little tabs which mean you can perch your tablet up as you like it for viewing.
The tablet itself is attached on an adhesive less suction pad, which means you can attach or take your tablet off whenever you like. The little tab can act as a tiny little cover for your iPad, and while you can attach any tablet to the case because of the suction, the cover itself is designed for the iPad Air only, and other tablets may not work.
The little tabs with the cards is also removable.
The material itself has quite a premium feel, and is made of fabricated sheepskin.
Removable Folio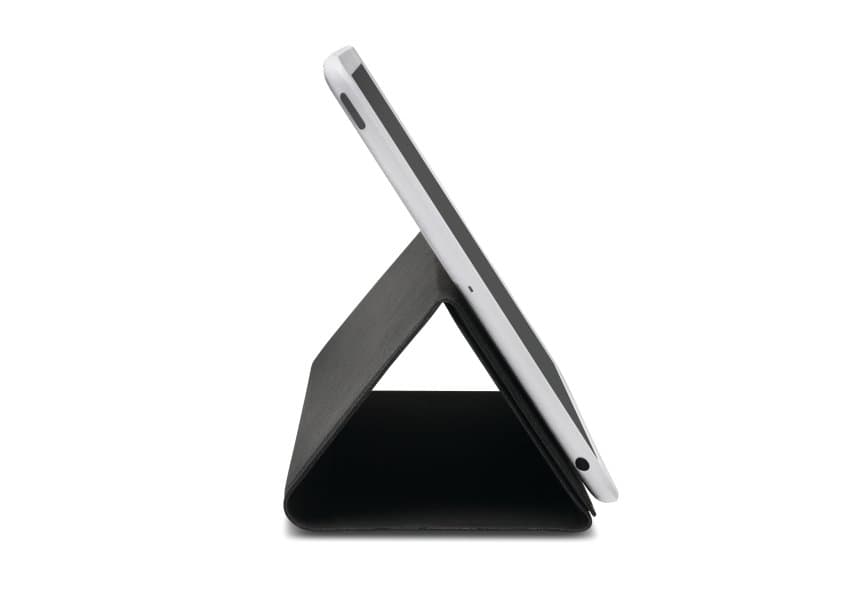 Taking a look at different parts bit by bit, we examine the folio. The folio works both well inside the zipper case, or outside. Once removed, it folds to give your iPad a great cover, or can be folded to turn into a stand as per the picture.
The suction pad is brilliant, and we can flap around the folio without the iPad falling down. In fact we might have even got carried away with the test.
Sadly, as already mentioned, this is designed purely for the iPad Air, and while the suction pad means any tablet will stick to it, the cover only works on the iPad Air.
Bluetooth Keyboard
Now the first thing you actually notice about the keyboard is that it is a UK layout. A lot of Bluetooth keyboards exist on the market, and are sold in the UK market, but getting one with an actual UK layout, i.e. with a £ and a € symbol on the keys is rare. Other than that, the keyboard is typical Mac style, with FN, CONTROL, ALT/OPTION and Command Keys. An extra key exists to toggle iPad's multitasking window, while other specials keys can be used for Home, Search, Keyboard, Browser, Volume, Lock etc. A simple Pair key exists on the top, as well as a power key. It also features arrow keys, which can be particularly useful while editing.
Now the keyboard itself is very impressive. I have written most of this on that keyboard, and I am happy to report that once you get used to the size of it, you can happily tap away on it. The keys are tactile, and have a very good feel to them, and the same standard as most laptops out there.
Being removable also means you can move and adjust it, or put it on your lap. This makes it ideal for travelling, or for those meetings.
This is also the first portable Bluetooth Keyboard that actually features an LED to indicate Caps Lock. Very handy!
The case
And to top it all, you have the case, which includes a slot to add your stylus, and extra room to throw in paper, visiting cards and the rest. Zip it up, and it looks the business, and makes this a very handy accomplice for any travelling salesman, or indeed any meeting.
More information
More information on the KeyFolio Executive can be found at the following link:
http://www.kensington.com/kensington/en/gb/p/1615/K97009UK/keyfolio-executive%E2%84%A2-zipper-folio-with-keyboard-for-ipad%C2%AE-air.aspx#.UvKWgvlw9qA
It retails for £99.99, and feels worth every penny!
Verdict
This is definitely one of the best all in one products I have tried. The iPad has found a new home, and I have a feeling it will stay there for a while.