What is it?
The Philips YS534 is part of their Click&Style range. Quite simply, this is one tool that can do it all for you. Different heads allow you to shave your face (wet shave and dry), an adjustable beard trimmer, and a body groomer which can both let you groom your body, or be used to cut different lengths of beard.
Look and feel
This is a very lovely device to hold in your hand. Ergonomically designed to fit in the curves of your hand, it gives you one of the best grips we have felt on such a device. Made of a red/black exterior, it looks and feels stylish.
The different heads pop in and out very easily.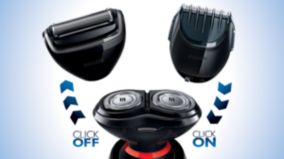 A power button lets you turn it on or off, while a couple of LEDs indicate battery status.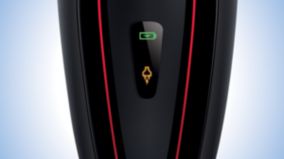 The different heads fit in well, and come off easily. The stubble trimmer is easy to adjust, while the body groomer allows you to fit different heads on top for different lengths.
Once you're done, you can wash this under the tap, so you get a nice clean experience.
The shaving head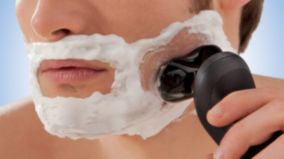 The shaving head comprises of two rotary blades. It can give you both dry and wet shaves, and while I definitely prefer wet shaves, it is up to you. Once again, the grip is very handy, and they even throw in some tips (like shave in small gentle circles, trim long hair before, etc), with the device.
The beard/stubble trimmer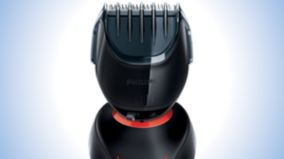 The trimmer is another neat and handy click on attachment which gives you that perfect stubble, or fine beard. You can adjust it to 5 lengths, from 1mm to 5mm, giving you the different lengths and styles you want. You can, of course, take the head off to give you precise edges as well.
Body Grooming
The third tip is used for body grooming, which has been specifically designed with rounded combs and pearl tips to prevent skin irritation.
The body groomer doesn't stop there, and different heads mean you can use the same attachment to trim your beard, giving you a further two lengths of 6 and 7mm.
Other accessories
Philips throw in a carry bag with this, so you can take all of your accessories with you when you travel, or even when you leave this in the bathroom. Being waterproof, it can be hung by the shower/bath. Like other Philips items, these also include a UK Adaptor, making it handy to charge this.
More information on this can be found from the Philips Website.
Verdict
If you want one tool that does everything for you, this is the one you want. Whether you shave, have a beard, or somewhere in between, or just want something to groom your body, this does it all.